Sharon and I have been fighting the onset of a cold for a week now and mine bloomed on Thursday. A nice sinus cold, so the head doesn't want to think and the voice is scratchy. When this happens I find that all perfumes (body lotions etc.) make me feel ill.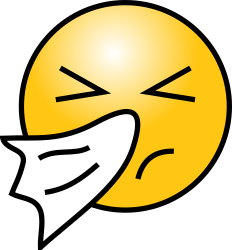 Sharon has a reaction to perfumes, they give her a kind of rash and migraines so we have gone pretty much fragrance free in our home. This has made me more aware of the scents around me (good and bad). I can smell cucumber being sliced from across the room and I drool, but it means I have developed a chemical intolerance of chemical based scents like perfumes in lotion, hair spray, soap etc. It is hard to find things that aren't scented. I am also finding more and more people at work have the same sensitivity. I work in the heart of the school building and everyone travels through and they carry their scents with them. I have taken to putting a fan on and using peppermint or wintergreen oils to help clear the air.
I use fragrance free starch on my quilt fabrics and wait in a line in quilting classes because I can't use the scented starch on the other ironing station. Why did I bring this up?
Well we went to the One Of A Kind Show and Sale in Toronto. It's always difficult in crowds but more so with a cold. Thankfully cough candies mask the scents very well! We saw lots of hats, children's clothing, stuffed toys and jewelry makers. There was only one lonely quilt maker there. :(
We did see fabrics that were printed with wonderful designs and made into tea towels, clothing, dog kerchiefs! I saw a cool scarf made out of old sweaters, hmmmm, I might have to learn how to use my serger again.
In the morning before we headed out I played with a charm pack. I want to make a quilt for a friend who is having a baby in April and I want to practise pantographs, so I get 2 things out of one! I don't want to make the quilt out of squares so I am trying something new.
I sewed 2 squares together then I used my ruler I bought to make leaves and I cut out a curve to re-piece together. I used my large rotary cutter but it was too big, so I found my small cutter and it was much smoother to cut. The next step is to piece them together, I have never done curves before!!! I'll let you know how it goes.
high tech marking system
small cutter doesn't nick the ruler!
cut and...
...switch!
Night time photo, sorry - my leaf ruler
I'm heading out to buy groceries and drag Sharon to Fabricland (they have a big sale this weekend) then we might go look at sweaters at Value village (she doesn't know that yet. Shhh!)